Photo Halters are minimalistic halters for horses that are used by photographers and videographers because they are really easy to edit out in Photoshop.
I used to make survival bracelets with 550 paracord. I don't do that anymore but I still have thousands of yards of paracord left over. So, once I found out about the photo halter, I thought I could make my own. Then I thought, why not make them for other photographers?
I probably could sell them for $25 or $30 but why not just give them to fellow photographers to make their lives easier. I have received so much from other photographers in the way of advice and coaching, I want to pay it forward, so to speak and I think we all need to support each other.
So, if you want to try one of these photo halters, just send me a message and I will send you one in the color of your choice. I have almost every color to match every horse so just let me know what color you want and I will try to match it as closely as I can. I will also add instructions on how to easily remove the halter in Photoshop that anyone can do. Take a look at the photos and see how minimal it is and how easy it would be to hide in post.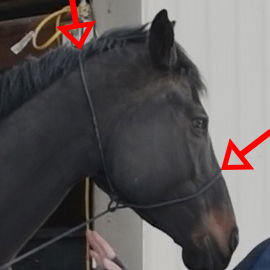 550 paracord is the strongest, most high quality paracord. This is the same paracord used by the military. It can support a working load of 110 pounds. It will not break and your horse will not break out of it. However, if your horse gets spooked, just let go of the lead.
One note that we have to tell you is that we cannot control the way you use it or the circumstances in which it is used so, in light of that, we cannot be responsible for anything that happens while using the halter. Makes sense, right?
Just send me an email at foto@frankiebenka.com or use the contact form. Send me your address and the color of halter(s) you would like.
Let me know how it works for you.